Forest Based Industry
Sector Highlights
Strong local demand and duty-free export access to Russian, EU and SEE market
Large opportunities in sawn wood, engineered wood products, furniture, and paper production
Top-quality raw base materials
"
"Its excellent strategic position made Serbia No. 1 investment location where we placed our first regional production center."
Aleksandar Andersen Podravac, Director, HealthCare Europe
Sector Overview
Serbia has the potential to become the preferred country for foreign investments in the wood and furniture sector. The sector's share in Serbia's GDP is 1.4%, while the wood processing industry's contribution to total export amounts to 5.7%, with an ongoing positive growth trend over the last few years.
FTAs with CEFTA, the EU and Russian Federation underpin vast opportunities for the customs-free export of Serbian office furniture. Made-in-Serbia furniture has a good reputation in the Russian market. This creates many ways in which international companies can cooperate with local ones – either through subcontracting, undertaking a Greenfield or Brownfield investment, or entering a Joint Venture. Furniture industry is one of the few recording trade surplus of over €100 mil. Moreover export furniture to Russia is growing each year by 50%.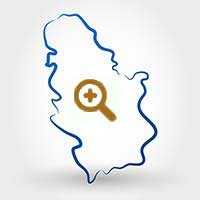 One of the sub-sectors of the industry with the brightest future is the production of massive furniture. This area offers comparative advantages such as: high-quality local raw materials, a low-priced labor force, low energy prices compared to other European countries, and a strategic geographic position that allows for fast shipment. Upholstery production is also a strong point for Serbia. To support the local and regional demand for chipboard furniture, there have been significant investments into automated lines for production of chipboards, especially by Austrian company Kronospan, the largest multinational company in this domain, and Fantoni from Italy. Interior design and business relationships between Serbian designers and local furniture producers, are two remaining sub-sectors that provide additional opportunities. The creative professional services constitute a flexible, high-quality, and export-oriented part of the Serbian industry.
Forests cover some 2.252.400 hectares (29.1%) of the territory of Serbia. Broad leaves constitute 90% of Serbian forests, while the remaining portion is made up of various conifers. The main tree groups of Serbian natural forests are beech (40%), oak (30%) and other broadleaves. State owned forests (1.194.123 hectares) has been certified by FSC standard. In the local market, forestry is closely linked to the construction industry, matching its outputs to the demand of this sector.